Justin Bieber, Avril Lavigne, Celine Dion and Ryan Gosling Are Distant Relatives
The Canadian quartet is related to each other, according to a family tree published by Ancestory.com.
We have all known for a long time that Justin Bieber, Avril Lavigne, Ryan Gosling and Celine Dion are all Canadians but what we have only recently found out is that they are all related too. The stunning revelation has been made by Ancestry.com, according to whom, the four stars are distant cousins and their pedigrees link with each other.
The website traced the aforementioned quartet's lineage to four centuries back and found out that all of their forefathers belonged to the earliest settlement of Quebec. A family tree was published on the website which shows that Bieber is 11th (once removed) and 12th cousins with Gosling and Lavigne respectively. France-born Seventeenth-century couple of Mathurin Roy and Marguerite Bire, were common relatives of the aforementioned trio.
Meanwhile, the "Baby" singer is 10th cousin three times removed of his fellow pop musician Dion. A couple named Jacques Vezina and Marie Boisdon is what serves as the link between the two stars.
About their fascinating findings, Ancestry's researcher Michelle Ercanback said: "The great thing about family history is that you never know what you're going to find. It was a very pleasant surprise."

Genealogist Lesley Anderson added: "Discoveries like this are rare, so the fact that some of Canada's top entertainment industry stars are all related is especially fascinating. There's something special about discovering a shared connection, and to be able to go so far back in history to do so is one of the most satisfying aspects of family history research."
Here is Ancestory.com's aforementioned family tree: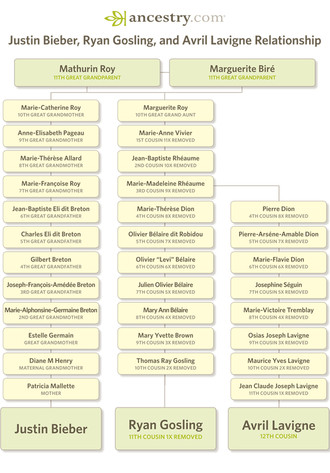 Written on Oct 16 2012 by Zohaib Ahmed (Google+ profile), junior writer at KOvideo. Tags: justin bieber
Comments
Be the first to comment and win valuable reputation points!